What are spinning whiskey glasses for?
A simple twist on the glass pulls the whiskey throughout the drink. Spinning whiskey glasses help by aerating whiskey and improving drink experiences by unlocking flavours and aromas.
Creative Spinning Tumbler Whisky Glass
It's cool to see and it transforms the drink experience for you completely. Enjoy your favourite beverages with full bodied flavors unlike anything that has been enjoyed previously. Rip it out and enjoy the flavors of the beverage!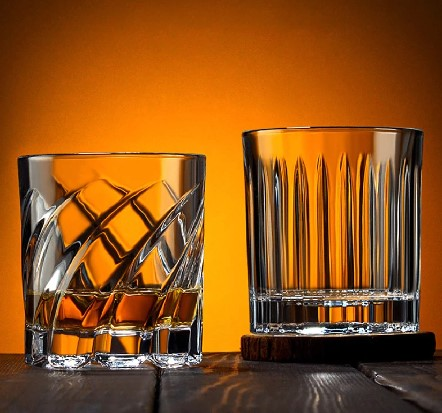 What is a rotating whiskey glass?
You simply put the spinning whiskey glasses into the table and rotate the glasses just with your palm – and then you get dazzling results and an enhanced drink experience.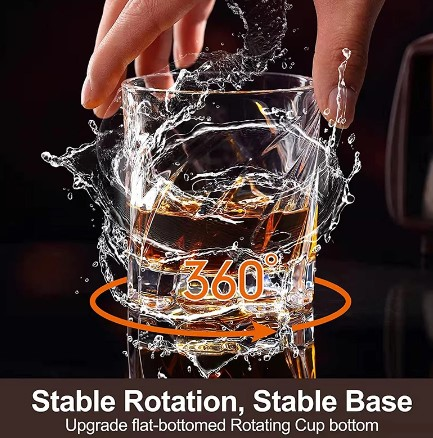 The spinning glass phenomenon
Despite their apparent simplicity, these spinning whiskey glasses have started a phenomena amongst whiskey drinkers world wide. The spinning glass will enhance the experience of your drink. Drinking cocktails is already social, but now you can impress your guests with a spinning old fashioned glasses.
You just bring the glass out of the container and place it on an open table and fill it with your favorite whiskey, scotch or bourbon. Don't forget to add things to your drink like maraschino cherries and angostura bitters for flavor and visual appeal. Then simply spin the glass with the palm of your hand... and then there is something spectacular happening - the glass rotates right before your eyes!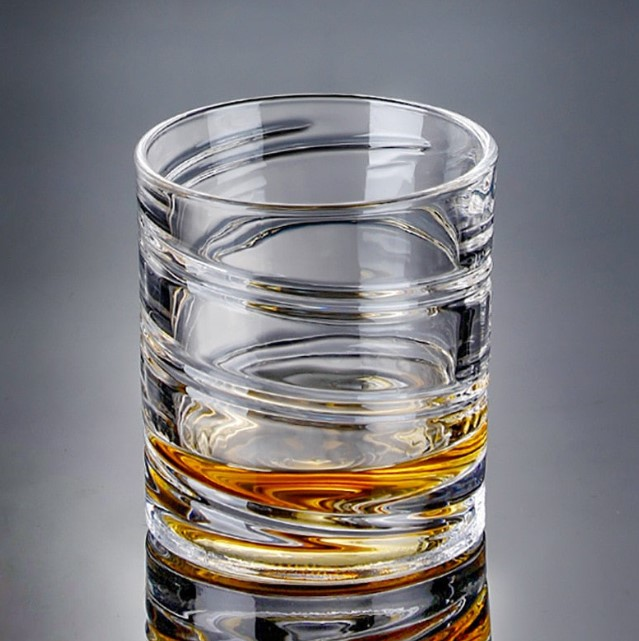 Improved Drinking Experience
The rotation of the spinning whiskey glasses makes your drink look amazing. It's fun when serving your guests with a scotch or whiskey drink in a rotating whiskey glass. Regardless if it's a special occasion like over the holidays or just a happy hour at your home, how fun does this sound?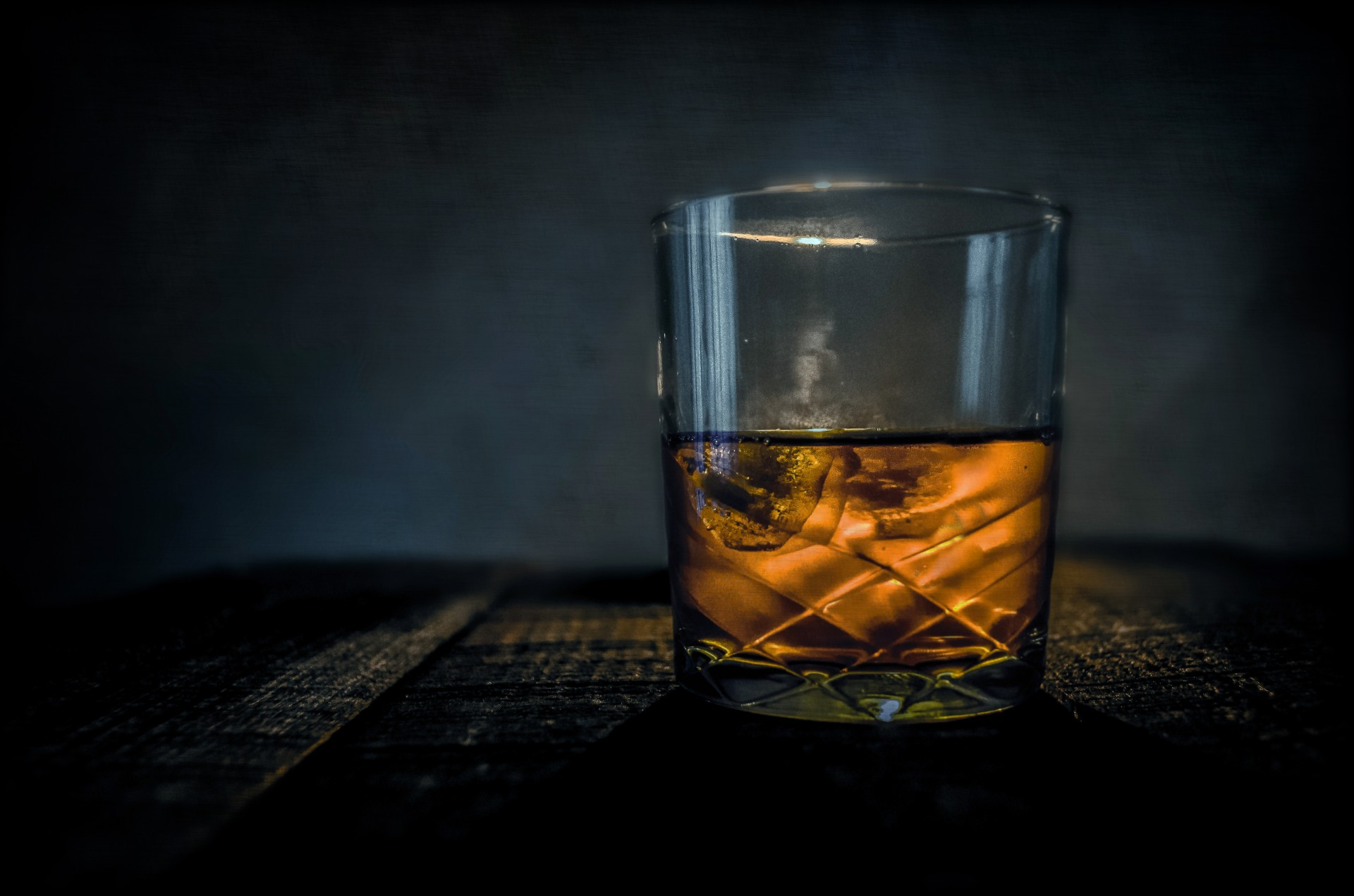 Specially designed shape of the bottom — the patented invention
Our rotating whiskey glass is specially molded and made so that its surface can spin over any hard, flat surface. The unique design on the bottom glass has been patented in the world. All glasses are made in our factory.
These spinning whiskey glasses are dishwasher safe and are heavy weighted on the bottom. The quality is great and these whiskey glass sets have become our best sellers. The glass can spin on any flat table or counter top. Our customers continue to share with us these whiskey glasses make the perfect gift.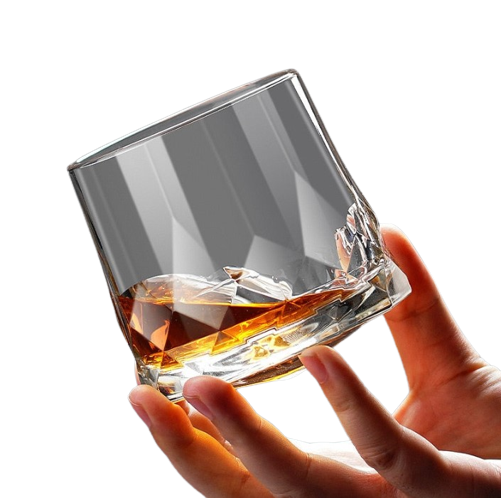 Add joy and some happy emotions to your life!
By rotating the glasses, mysterious moving lines create a stunning effect reminiscent of flowing water, flickering flames, and glowing starlights. Joyful products make the best gifts. Whether your shopping for yourself or looking for a great gift idea, the spinning whiskey glasses are a great choice.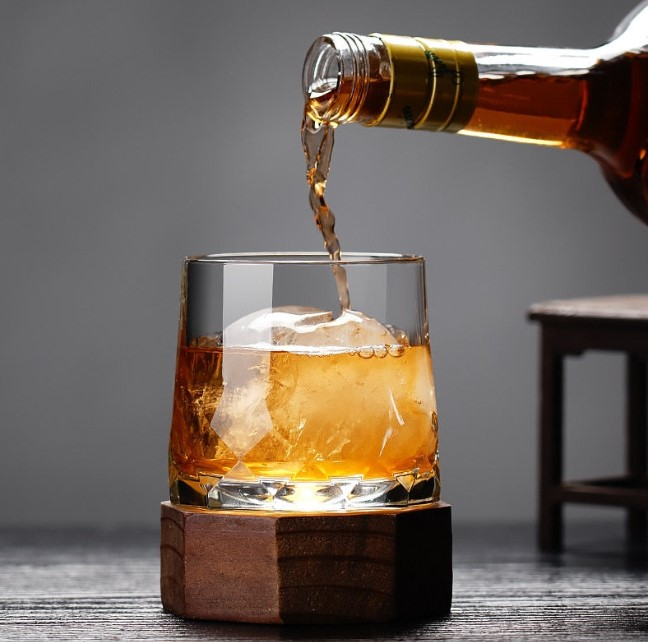 Is there a difference between whiskey and bourbon glasses?
Technically, Bourbon glass is a Bourbon glass. Despite this glass manufacturer says there is a specific structure and several other elements in the product that are most complementary and provide an individual experience of the beverage.
What is a whiskey sipping glass called?
A whiskey sipping glass is often referred to as a whiskey tumbler or a whiskey snifter.Why are whiskey glasses curved?
A whiskey snifter is a type of glass that is specifically designed for drinking and appreciating fine whiskey. The key characteristic of a whiskey snifter is its round bowl and narrow opening, which serve to concentrate the aroma of the whiskey and make it easier to appreciate the bouquet. The rounded shape of the bowl also allows for a comfortable grip, making it easy to warm the whiskey in your hand and release its full aroma and flavor.
In addition to enhancing your whiskey drink, whiskey snifters also make great gifts, and are often collected by whiskey enthusiasts and connoisseurs. They are a classic and sophisticated addition to any bar or home bar setup.
Most glasses are bulbous body shapes which allow the smell to collect in a narrow rim.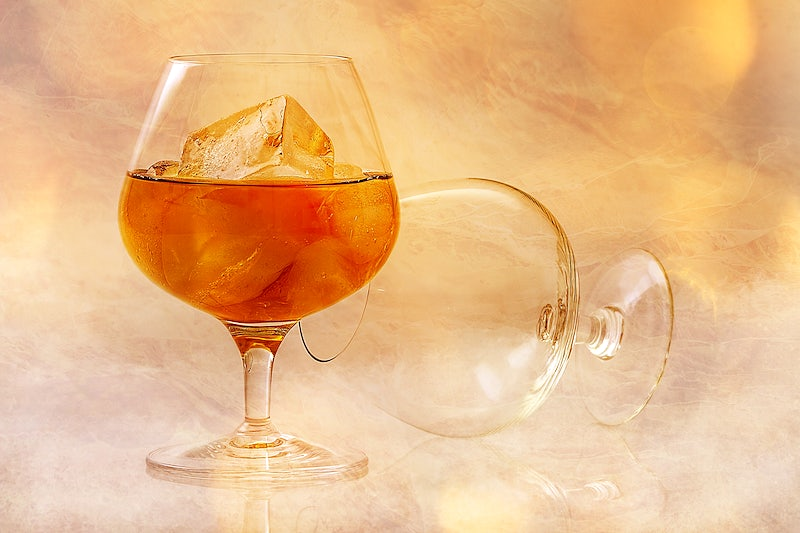 An Old Fashioned glass (also called Rock Glass or Whisky tumblers) is the usual choice to serve whiskey drinks. This Whisky Glass weighs around 7 or 8 ounces. Suitable for the use as whiskey drinks on rocks or as a cocktail.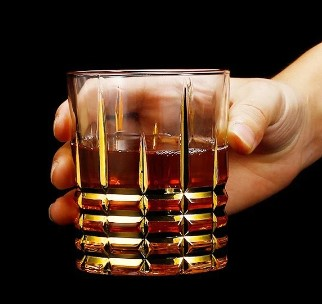 A whiskey tumbler is a short, sturdy glass with straight sides, designed for holding and drinking whiskey. They are usually made of thick glass and have a heavy base to provide stability and prevent spills. Whiskey tumblers are commonly used for casual drinking, as they are easy to handle and hold a generous serving of whiskey.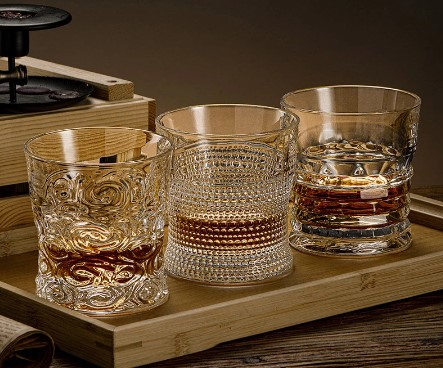 The best whiskey glass as a gift will depend on the recipient's personal preferences and the occasion for which the gift is given.
A classic whiskey tumbler is a versatile and practical gift that can be used for both casual and formal drinking occasions. They are usually made of sturdy glass and have a heavy base, making them a great choice for everyday use.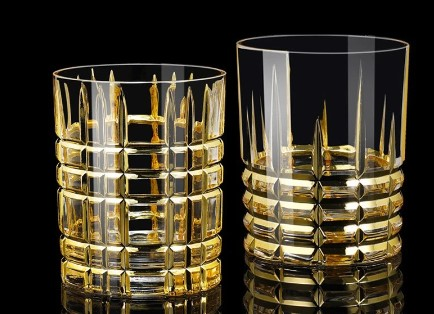 A whiskey snifter is a sophisticated and elegant gift, perfect for the whiskey connoisseur or someone who appreciates the finer things in life. They are designed to enrich the aroma and flavor of the whiskey, making them a great choice for special occasions or to commemorate a milestone.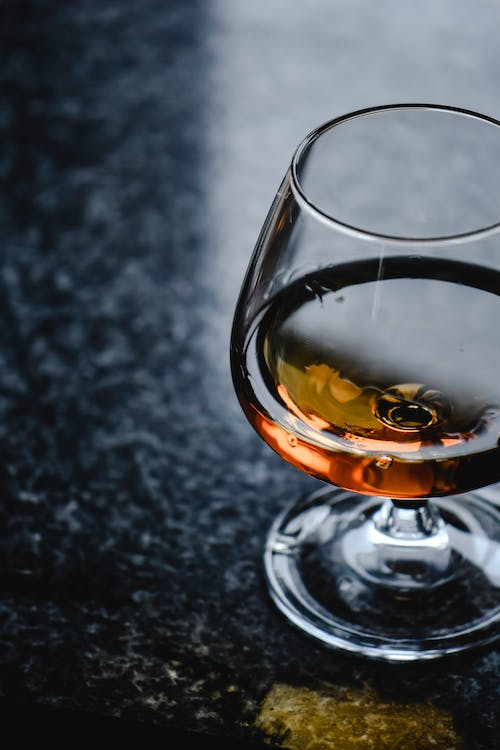 A personalized whiskey glass, such as one with the recipient's name or initials engraved on it, makes a unique and thoughtful gift for someone who loves a drink. This is a great option for a special occasion or to commemorate a significant event.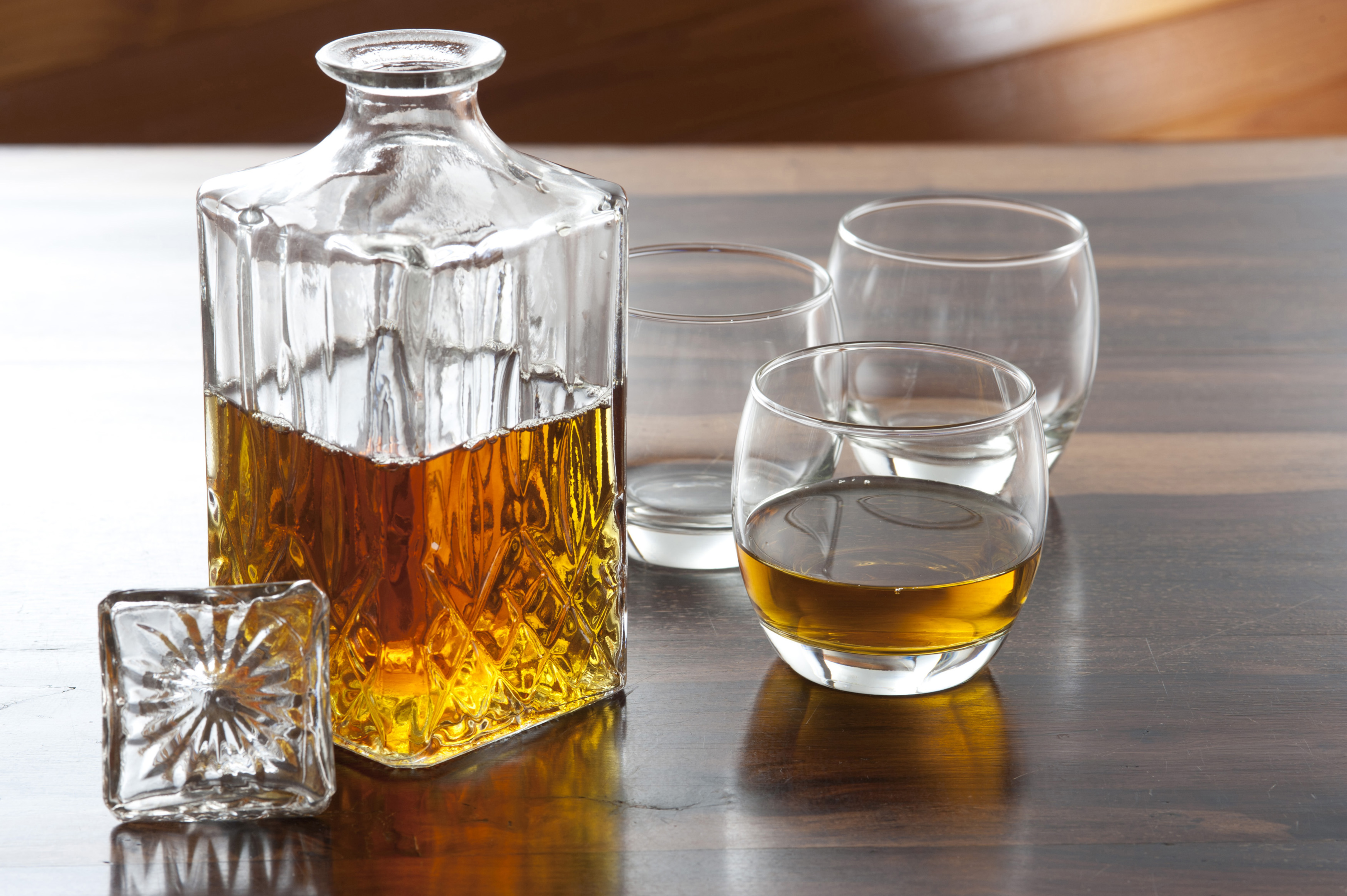 Ultimately, the best gift will depend on the recipient's personal preferences and style, so it's always a good idea to consider their individual tastes when choosing a gift. But in the end, we hope after reading this you'll make sure you're gifting one of our spinning whiskey glasses